Magnetobiological Environment monitor
So far as known this is the first real-time magnetobiological environment monitor online. Data is updated at 04, 19, 34 and 49 minutes each hour. Click any image for larger version.
The strategic goal of this project is to research possible correlations between antropogenic emf emissions from electrical power infrastructure and changes in the natural magnetobiological environment on earth.
The geographic focus for the project is Denmark (located in Northern Europe), although data participation from other regions is welcome. The project is continuingly beeing expanded. Dataflow from a increasing sensor array covering different aspects of magnetobiological environment is archived and arranged in graphs for easy access.
Beyond the data shown here all datapoints are fully logged for statistical research.
Some of the datasets generated are the result of quite complex sensor arrays. Data quality (reliable and valid representation of the measured entity) is good, but stability is continually improved. Data outages are possible, due to the highly experimental nature of this project. No data from this project are to be used without prior arrangment. All data, images and analysis: (c) Horsevad Independent Technical Research and Analysis

Schumann Resonance Spectrogram
E-field Schumann Resonance. Frequency resolution better than 0.008 Hz. Temporal resolution 60 seconds.
Graph update every other minute. Timestamps are UTC.
"Fuzzy" lines represents the 5 first harmonics of the Schumann Resonance. Sharply contured lines are generated by local electrical noise.
Click for larger version
Frequency pertubations of the Schumann Resonances.
Numerical data access
Most recent frequency and amplitude data for the Schumann Resonances
Planetary Kp Index
The planetary Kp Index is shown courtesy (CC BY 4.0) of the GFZ German Research Centre for Geosciences
The planetary Kp Index is a measure of the global disturbance of the Earth Magnetic Field by high-energy particles from the sun.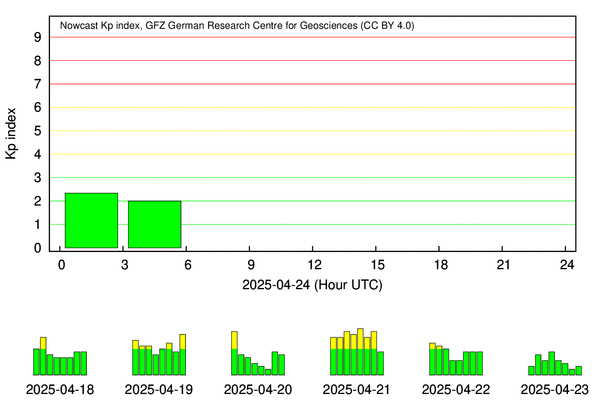 Ground Current levels at different depths
Data updated at 03, 13, 23, 33, 43 and 53 minutes each hour
*******
Magnetic Anomaly Monitor